Sun 27th Feb 2022: Put that light out!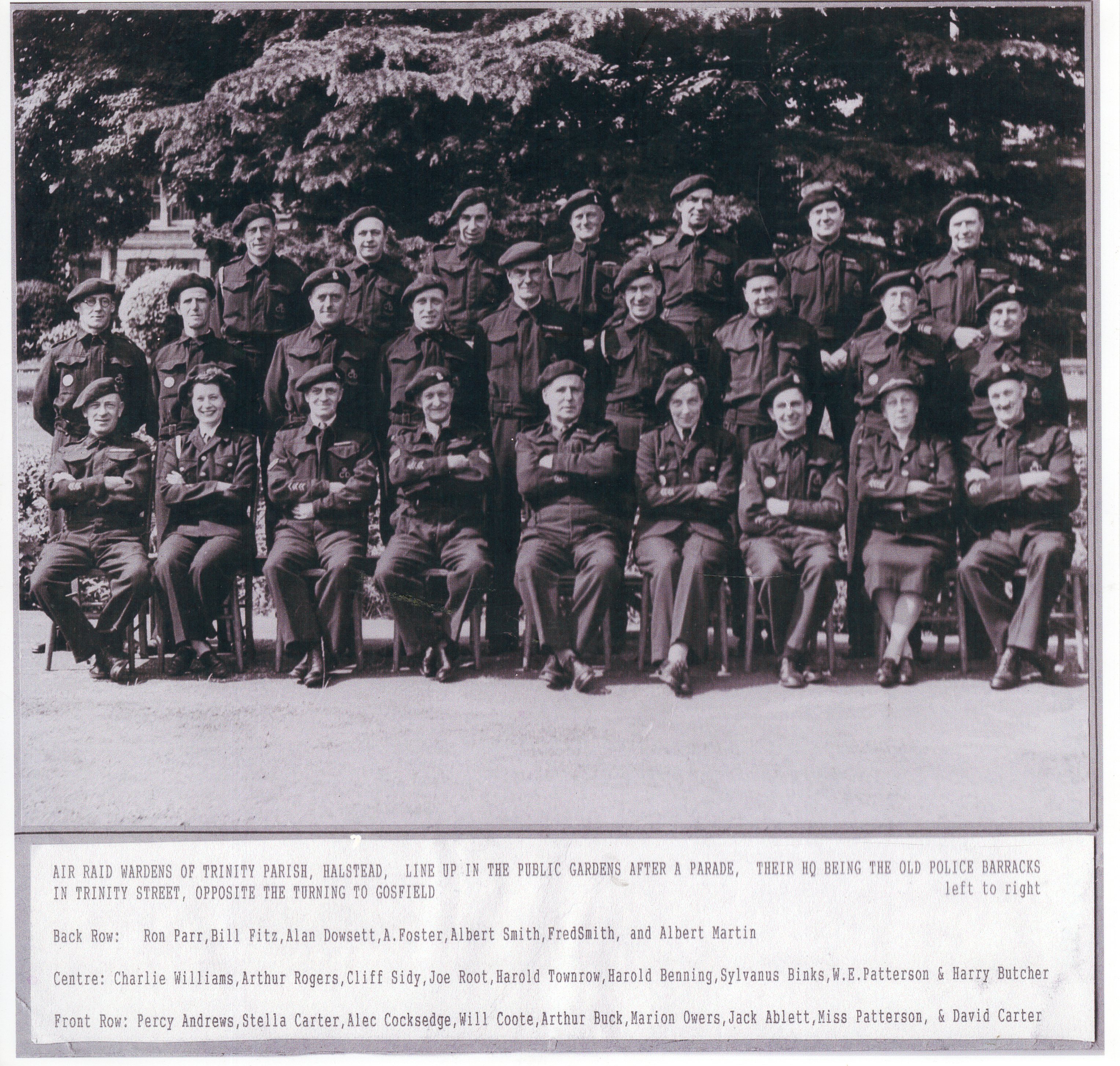 Halstead Heritage Museum has provided more photos and articles about ARP wardens and we now have an abundance of names. We've posted some names of ARP wardens on our Facebook page, but despite some of them being quite well-known, no-one has stepped forward with more information. ARP wardens had many duties (including making sure that the blackout was observed) and carried a lot of responsibility and many were engaged in day-time work. By the number of names and photos we have, we deduce that there was quite a high turnover.
The Air Raid Precau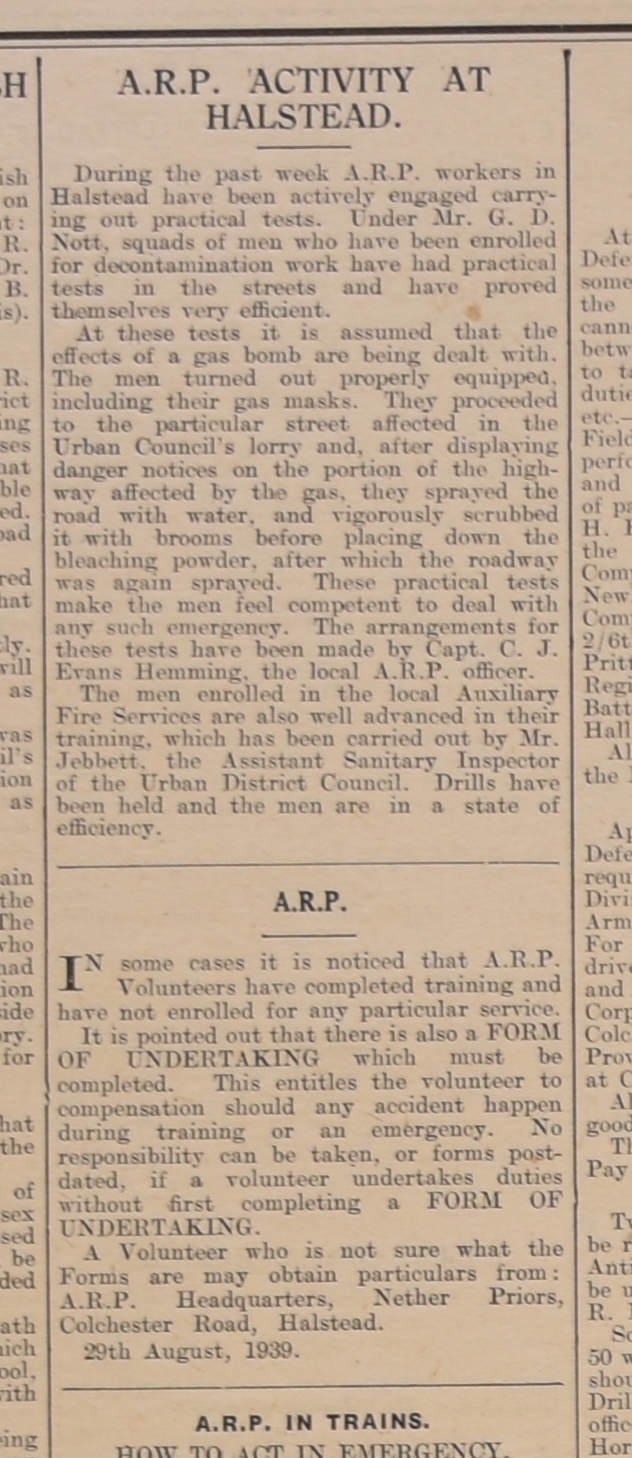 tions Act of 1937 placed responsibility on county councils for civil defence schemes, and minutes of town council meetings reflect this. The Essex ARP HQ was in Ilford. We see evidence of widespread ARP warden recruitment from shortly after the Munich Agreement. ARP warden handbooks were published in September 1938, a year before WW2 was declared. The first group of wardens seem to have been appointed soon after this and are named as:
T.G.N. Franklin Harry Sturmer Cyril Evans
George Preece Francis Adams Sidney Pole Will Collier Leo Lindekam Sidney Tomlinson
Henry Pountney C. Westrop Reg Tanswell Jack Salmon Stanley Symonds V.G. Cross
Miss Patch Bill Knowles Arthur Buck Jack Simmons Alec Watkinson
The silk mill's air raid shelters were built the following summer, and presumably quite hurriedly because we know they were in use at the outbreak of war. The Plans received by Courtaulds' Estates Dept, on 27.7.39 stated '16 ARP Shelters required', but one of the semi-sunken Costain shelters was replaced by the above-ground brick structure. We can find no images and have seen no written evidence to show how or why that decision was made or by whom. Older members of the town have reported that this building was used as a communications room, a First Aid post and an ARP Warden's station.
Many ARP wardens used pre-existing buildings, but often small purpose-built reinforced surface structures were constructed However, we have it on good authority that the brick-built structure behind Factory Terrace is unusually big and has far more rooms or compartments than would be expected than a simple ARP warden's post. Could it have been built for the distribution of gas masks or a decontamination centre? At present we have no pictorial or written evidence, and wartime defence records are often very difficult to find.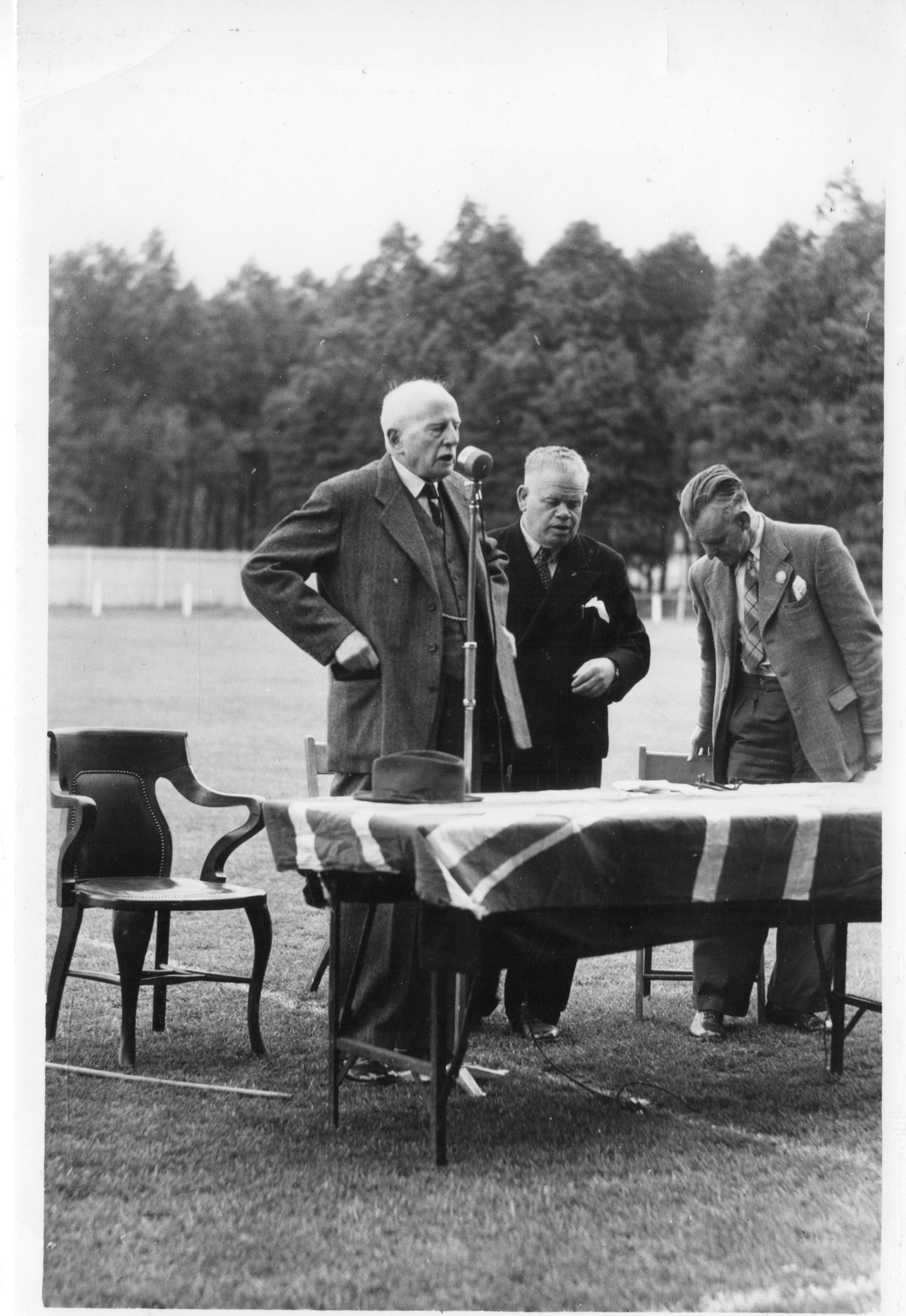 One of our main hopes is to access information from local people, stories that have perhaps been handed down through generations. The photos and articles we've seen suggest that there was a high turnover of ARP wardens. They certainly carried a lot of responsibilities on top of their other roles and daytime work. Ted Parker (seen below, centre) shown (centre) in his capacity as Halstead Town Football Club's president, was a councillor and insurance agent; Harry Sturmer was a councillor and a decorator; Bill Knowles was a loom attendant; Francis Adams was a brewer; and T.G.N Franklin was a captain of Halstead Cricket Club.
Thanks to books by Doreen Potts and Dave Osborne, and the ongoing commitment of Halstead & District Local History Society we have access to many documents. However, your amily stories could really help us to fill in the gaps about WW2, the people who took on such an active role in local defence and provide some missing information about Courtaulds' WW2 structures. Just contact us at info@halstead21stcentury.org.uk
And if you'd like to help us preserve the air raid shelters or any other examples of Halstead Heritage then please get in touch by email, or Join us.
air raid shelters . WW2 . ARP wardens . ARP . Halstead . Courtaulds . local history