Tue 29th Mar 2022: A brief introduction to Civil Defence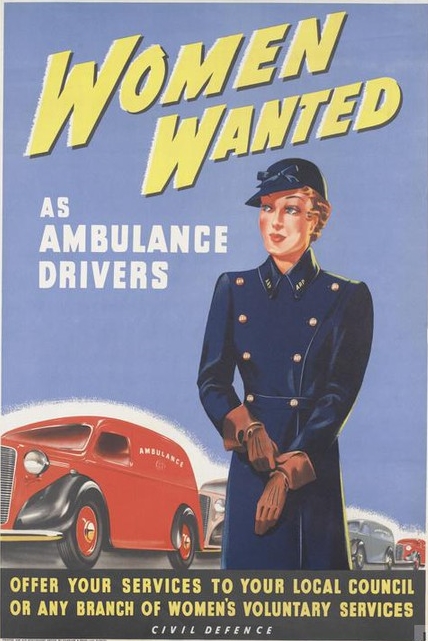 Alas, no-one came forward with any information after last month's blog about ARP wardens - but we live in hope. Air Raid Precautions (ARP) was just one means of protecting citizens during wartime, and It was seriously considered by the Government as early as 1924. The Home Office issued the first ARP circular in 1935. but in 1939 local authorities assumed responsibility. ARP was just one aspect of civil defence, a much wider approach to dealing with emergencies and their personal and social consequences.
Civil defence was deemed necessary because the world was becoming an increasingly hostile place. Japan occupied China, there was a civil war in Spain, Italy under the fascist Mussolini had invaded Abyssinia, and Hitler's Nazi government was oppressing minority groups in Germany, had expansionist ambitions and re-armed.
In September 1938, as war seemed more and more inevitable, the British Government established 12 regional Civil Defence regions under the Civil Emergencies Scheme Y. They would support the armed services in many ways with trained civilian volunteers. The breadth of services and organisations involved demonstrates how extensive the scheme was, including rescue, welfare, first aid etc. Each organisation that came under the umbrella of Civil Defence had its own badge, and all ARP Wardens would have been issued with a gas mask and a steel helmet marked with the letter W. Such artefacts are still easy to find.
Historic England points to the functions the types of buildings and the diverse structures that were needed to accommodate the duties to be carried out - from the smallest of firewatchers' posts to gas decontamination centres. Halstead's own surviving group of air raid shelters are great examples. The 15 semi-sunken Costain shelters are well-described in records dated 1939, but construction seemed to go 'off-plan' for the brick-built above-ground structure, the size and design of which are unusual. Anecdotal evidence indicated that it was used as an ARP warden's station, a radio room and a First Aid post, but we would love to learn more.
The end of WW2 was also the start of the nuclear age, and local authorities were encouraged to establish civil defence associations. The Civil Defence Corps were established in 1948, their purpose was to respond to national emergencies – including a nuclear attack – and for this they needed volunteers. At a time when very few people had televisions, this short promotional Pathe film could have been shown at The Empire and Colne Valley Cinema between the A and B. movies.
A 1960s town centre development plan for Halstead suggests a Civil Defence HQ on the site now known as Land East of the High Street. This is where the air raid shelters lie and, presumably, they were intended to be used if needed. The Civil Defence Corps HQ for Essex was under the command of Mr Betteridge for several years and was based in Redbridge for several years. A secret bunker was built beneath Redbridge Town Hall and was forgotten about for many years - until a survey for building work was being carried out in 2019.
Linda Kemp (nee Marlow) was an administrative assistant for Civil Defence services from 1964 until 1966. From 1965, she was based in the old drill hall on Victoria Street, Braintree, which had been refurbished to provide offices for the Civil Defence team. She recalls how she had to sign the Official Secrets Act on taking up her post. Information is still often hard to find because of the levels of secrecy required and The areas she covered comprised Braintree & Bocking Urban District Council (UDC), Witham (UDC) and Halstead UDC. Under the watchful eye of her boss, Barbara Everitt, Linda spent much of her working time arranging training for volunteers. Lectures took place on the premises, but practical exercises often took place on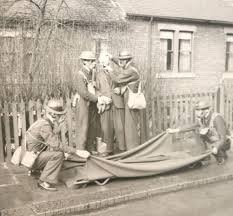 Danbury Common and involved enactments. Linda recalls a young Graham Crighton being dragged along by his dad to be a 'patient' for a local training exercise. Volunteers were often dressed and made up to simulate injuries as the photo shows.
This next recruitment film was made in 1951 and provides examples of how the Corps worked and suggests the attitudes and fears of that era. Certainly, the nuclear threat, civic duty and community involvement proved a powerful combination in the early days because around 500,000 volunteers joined the Civil Defence Corps between 1949 and 1953.
While the ultimate threat of military aggression never required the services of the Civil Defence Corps, they provided support during peacetime emergencies such as the 1953 floods and the Aberfan disaster of 1967. In 1968 the Civil Defence Corps, and its 75,000 volunteers were ordered to stand down, officially for economic reasons. However, Civil Defence bodies continue as civilian community groups across the UK, including services such as Mountain Rescue. Indeed, it may have been as a result of her involvement with these groups that Barbara Everitt, Linda's former boss, was made an MBE in 1984.
The Civil Defence Association has a comprehensive list of present organisations as well as past ones and there are opportunities to join a regional group.
Civil Defence also continues to be of international interest and the worldwide Civil Defence Day is an annual event. This year, it took place on the 1st of March, just a few days after Russia invaded Ukraine. Proof indeed that the need for Civil Defence services is ever-present.
Were you or your family ever involved with local civil defence organisations? We'd love to hear from you if you or they were. Our thanks to Linda for her memories too, and I'm if any of you have any more information about Barbara Everitt or Mr Betteridge, we're sure that Linda would love to hear it too.
We're indebted to Alf Walshaw for the following information about being a trainer for the Industri-al Civil Defence Service:
Training
I joined the Corps some time in 1964. Training took place over two years. Initially about the struc-ture of the Corps, effects of nuclear weapons, fallout, first aid. Followed by a basic test to be al-lowed to take part in advanced training. Instruction was also given in the use of radiac equipment for the de-tection and monitoring of fallout. I do not know anyone who failed the basic test.
Advanced training concentrated mainly on teaching the skills associated with your section where much of the work tended to be practical.
after instruction/demonstration
one day exercise at weekends, locally two-day residential exercise at a special site specially set up with a prepared situation involving all sections and often other services such as fire and police
a national exercises in which all controls were manned, with the ROC and a simulated nucle-ar attack on the UK.
Tactical Exercise Without Troops (TEWT) is where a situation is created, ton a very large ta-ble or even bigger, such as an area subjected to a nuclear blast, then represented by models of house, types of damage, fire etc. Telephone and radio messages come in and as the situa-tion evolves, decisions have to be made for deployment of forces, evacuation of causalities' etc.
Recruiting took place on a year - there was a national recruiting campaign on TV and the press and local campaigns by demonstrating at events and handing out leaflets, posters etc.
My own training followed the normal two year programme but I also trained as an instructor, locally trained at the HQ, which took up my Sundays and concluded with a practical teaching test. I was then a Signals Instructor and paid £1 per hour.
I was asked by the NCB then to become a nationally trained instructor and sent on a three week resi-dential course to one of the Home Office schools. The course as much more intensive than I had ex-perienced before.
Instruction
Various methods were used:
Lectures
demonstrations followed by practical work
playlets
Industrial Civil Defence Service
I was used by the National Coal Board as a warden instructor, sometimes once a week, but could be as many as three days. Each colliery had its own CD unit and I trained the wardens here and generally helped out. I enjoyed working with all the people, all were very keen and took their duties seriously.
There was a local and national competition each year.
Male/Female Balance
This roughly equated to the section:
Welfare - usually all female, many of whom were in the WRVS.
Ambulance and First Aid - probably about 50/50
Rescue - initially only males allowed but changed in the last few years
Warden - mostly male
Headquarters - well balanced, apart from the male field cable parties
Skills
These are the ones I acquired as I went along, many perhaps not relevant today.
How to use radiac equipment
First aid

Map reading
Teaching/instructing
Giving a briefing
Giving orders
Working as part of a team
examiner
Social life
Social interaction was encouraged between the sections. We had our own bar at the training HQ, but only open after evening training sessions and evening social events, including visits from other CD groups.
Equipment
Being a small county borough our mobile equipment consisted of:
2 ambulances
1 field cable land rover and trailer
1 recconaisance land rover
1 mobile control (ops vehicle and signal office)
1 minibus
1 rescue vehicle
We also had a brand new underground control, fully equipped with six telephone lines, wireless, operations room, signal office, generators etc.
Disbanding CD came as a shock in 1968. I had made very many friends and learned a great number of new skills. However, it did give me the confidence to apply to Durham University and be accepted for teacher training, opening a new chapter in my life. It is an experience I will never forget.
You can email us at info@halstead21stcentury.org.uk
Civil Defence . ARP . Women's Voluntary Services . Scouts . Auxiliary Fire Service . Oral histories