Fri 25th Sep 2020: Muriel Constable - a Halstead legend
Muriel Constable was our oldest member, she was a very familiar face to many Halstead residents and she was a legend.

Born to Clara and Russell Constable on Upper Trinity Road, and the younger sister of Bertram, Muriel was christened at Holy Trinity Church a month later: an event that opened a path she would follow for the rest of her life. A devout Christian, her faith was at the core of Muriel's being, Christian and Holy Trinity Church, and its activities were essential to her. It's not surprising then that the only time she left this country was to visit the Holy Land with fellow Christians.

In her mid-20s, Muriel became a Sunday school teacher. Hundreds of fresh-faced children received the care and tuition of Muriel and her colleagues. The children were expected to be well-behaved, but many local adults have fond memories of her at that time. Muriel herself talked about Sunday School excursions to Clacton, when she and fellow teachers corralled up to 200 children onto waiting trains at Halstead railway station. And when she wasn't involved with Sunday School she helped to maintain the church and tended Holy Trinity Parish Hall's garden. The decision to close Holy Trinity Church at the end of the 1980s pained her deeply.
Muriel's mother worked at Courtaulds and arranged for her daughter to be taken on at their Halstead mill. Despite working a 49 hour week, the 14 year old Muriel enjoyed her work and eventually became a highly skilled weaver. She produced the most complex of textiles, Jacquard fabrics, for most of her working life. That changed during WW2, of course, when the need for strong, plain-woven fabric for parachutes became a national need. She was very conscientious and took great care with the fabric because "Somebody's life depended on it." Muriel stayed at Courtaulds until her retirement, shortly before her 60th birthday, and long enough for her to receive the company's long-service award in London.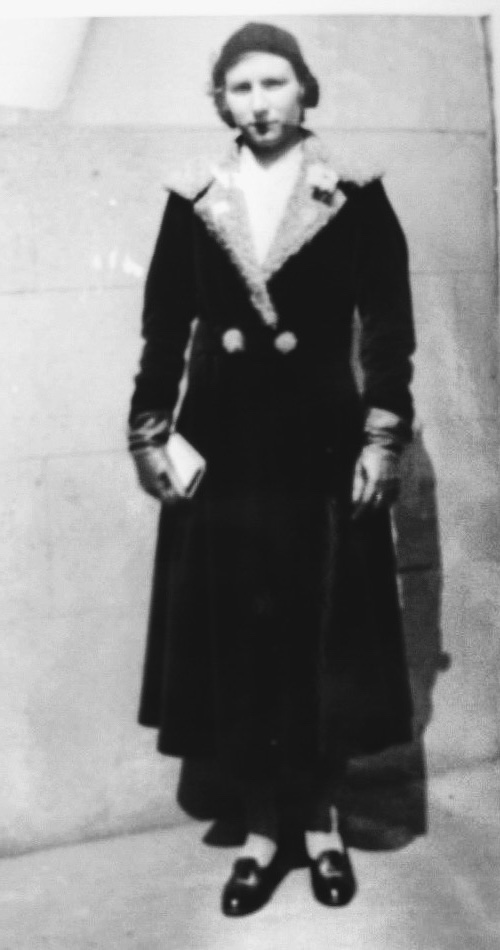 Muriel had a strong work ethic and kept herself busy at all times. She was far from image-conscious, but sewing was one of her interests and she made many of her own clothes when she was young. Her aptitude may have been inherited from her father who was a tailor and made the velvet coat with the astrakhan collar that can be seen in the photograph. Muriel made the matching hat and was snapped wearing the outfit in the late 1930s or early '40s. She still had the coat in early 2020.

Muriel is perhaps best known for her work with the Royal British Legion as a poppy appeal collector. She collected for more than 50 years, house-to-house then in Halstead town centre, so she became a very well-known figure. With her own father and brother having served during the wars, this was a cause to which she was deeply committed. Even suffering a stroke did not stop her, and friends made sure she could carry out her duties in a wheelchair. She finally retired in her late-90s. Her work was rightly recognised and she received many medals. Her last, a gold, was awarded just a year and a half before her death.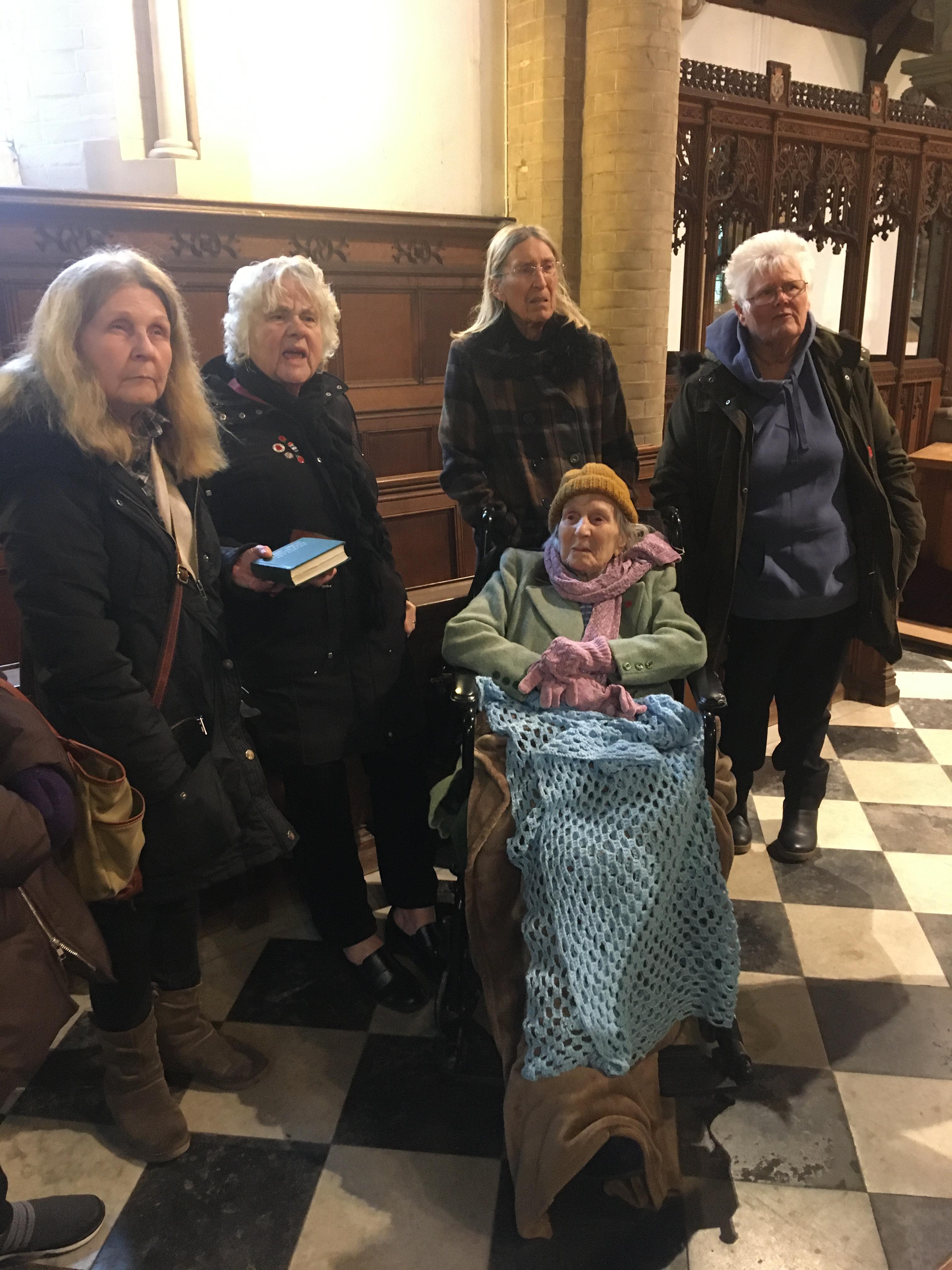 Muriel's physical health gradually declined over the last years of her life and, with sadness, she left her own home on Trinity Road to live at Halstead Hall. Her 100th birthday was quite an affair. The home hosted a celebratory tea party at which she can be seen holding her birthday greetings card from the Queen. Close friends and godchildren threw a more intimate house party for her. And just a week later Muriel paid a very special visit to Holy Trinity Church. It was a privilege to join her there and a pleasure to see her in the place that was so dear to her heart after such a long absence.

Muriel was a woman of great faith, a person of conscience and a community activist. She loved Halstead's history and heritage and was a staunch supporter of Halstead 21st Century Group. We will miss her.

Holy Trinity Church, the place of worship that meant so much to Muriel', was declared redundant in 1987. Its Grade II* listed status should ensure its preservation, and it is now protected by the Churches' Conservation Trust. The Friends of Holy Trinity Church help to maintain the building and ensure that it can be visited by the public. One of Muriel's last requests was that any donations should be made to the Churches' Conservation Trust or the Royal British Legion, but if you do nothing else, please visit Holy Trinity Church and discover why it is still important to Halstead.