Fri 24th Sep 2021: Big, red and beautiful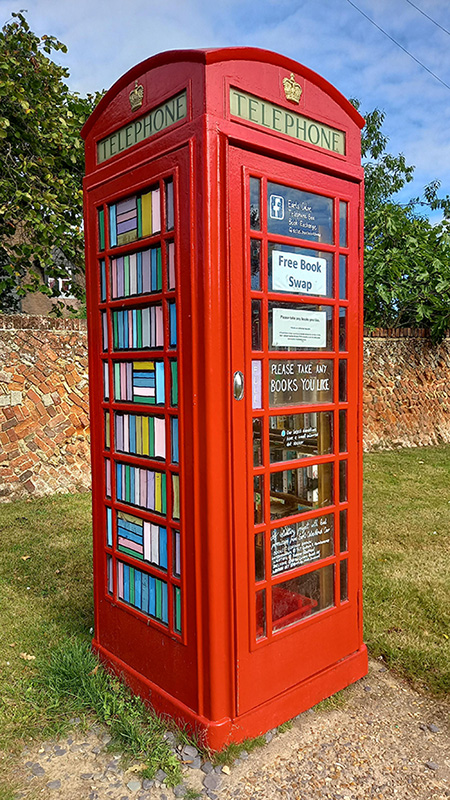 Have you noticed how telephone kiosks are disappearing from our streets? Not just traditional red phone boxes, but all types of public service telephone booths are being removed, so that today, it can be quite difficult to find a functioning public telephone. Halstead is no exception and the most prominent location today for a phone box in town is in front of the 1962-built Crown Post Office (now de-branded and in use by Royal Mail only as a Delivery Office).
There are two steel & aluminum based KX200 kiosks on the forecourt, still displaying the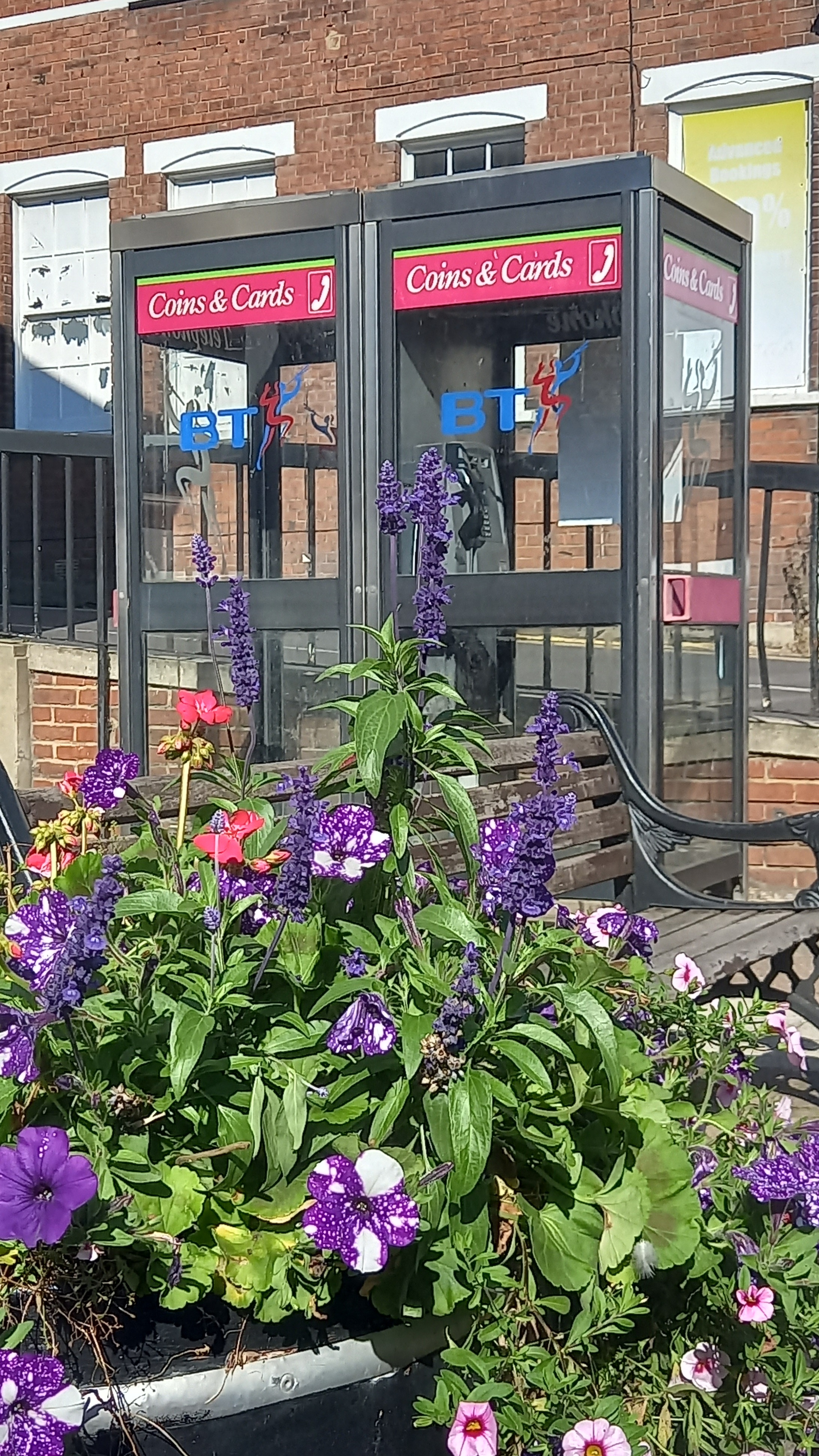 British Telecom "Mercury Piper" graphics which were the corporate symbol of BT between 1991 and 2003. The KX200 design itself was a widely-deployed kiosk that combined ruggedness, security and clean aesthetic design which could be sited almost anywhere.
Of course, this was not always the case with public telephones. From 1881 until 1912, the UK's telephone network was entirely in the hands of GPO-licensed private operators, the largest of which was NTC – The National Telephone Company. Under the private operators, calls were expensive to make, the apparatus was in short supply and the network fell woefully short of the needs of a rapidly industrializing nation with expanding cities and towns. The Government stepped in and revoked the licence of NTC from 31st December 1911, bringing its entire network under the aegis of the General Post Office from the beginning of 1912. However, in 1889 the Government had encouraged local corporations to establish their own telephone systems to compete with NTC.
So in 1912 there were still several of these towns and cities with their own telephone networks and whilst most of these handed over control to the GPO in 1912, two of these held out- Kirkaldy and Kingston-upon-Hull. Kirkaldy capitulated with the outbreak of World War 1, which left only Hull outside the GPO network. The Telephone Transfer Act of 1905 made provision for Hull to extend its GPO licence indefinitely on condition that it took over all NTC (and the very few GPO) subscribers in its area and that it agreed not to expand outside of the geographic area around the City originally covered by NTC. Even today, the City's phone network remains separate – today it is known as KCOM, (formerly Kingston Communications Ltd) and is the only place in the UK with 100% fibre to the door telephony. They also maintain an extensive network of public call offices across the city, painted cream and without crowns, principally because local calls on the KCOM network are free!
In Halstead, the first telegraphic communications arrived with the Colne Valley Railway in 1860. This provided simple morse code communication via the railway connection to Marks Tey and the Great Eastern Railway's network. Soon the wires were extended up Market Hill to the Post Office, which was situated where Halstead Physiotherapy is now on Hedingham Road. When voice telephony was developed by Alexander Graham Bell and adopted by the Post Office from 1881, this too reached Halstead, by this time at the "new" 1895-built Crown Post Office on High Street. The simple plug-board telephone exchange was at the rear of the much larger Post Office building. Early 20th century photos of this building show an enamel sign, white on a blue background, which reads "You May Telephone From Here" indicating the presence of an attended "Public Call Office". Indeed, even after the debut of on-street telephone booths, they continued to be referred to as Call Offices. You can see enamel signs from the NTC and the early GPO in the Colne Valley Postal History Museum collection.
The early privatized companies had used a rag-tag collection of Call Office designs, but in 1921, the GPO decided to standardize on a new one to be known as Kiosk Mark 1, or K1, for short. Halstead got a brand new K1 outside the 1895 Post Office and this duly appeared on a black & white postcard of the time. The K1 was made of pre-cast concrete with a solid teak door and window frames. The Pagoda-style roof surmounted by a large ball was surrounded on all four sides by brown and cream signs with the simple legend "Telephone". Again, one of these rare signs is in the CVPHM collection on Head Street.
At some point after 1935, the original K1 kiosk was replaced by a pair of cast-iron red phone boxes of the classic K6 design and once again, these appeared on a contemporary postcard. The K6 red telephone box was itself a smaller, lighter and cheaper version of the K2 kiosk designed by Sir Giles Gilbert Scott for the 1924 GPO competition to find a kiosk which would be acceptable to the London Metropolitan boroughs, who disliked the earlier K1 design.
Giles Gilbert Scott was the son of the famous architect Sir George Gilbert Scott, who designed Holy Trinity Church in Halstead and St James in Greenstead Green. As part of the celebrations for the Silver Jubilee of King George V in 1935, The GPO made available a "Jubilee" K6 kiosk to every town or village in the UK that requested one. Eventually there were over 66,000 such kiosks scattered across the country. A later 1968 design, the K8, simplified things with just three large glass windows and a more modern look but retaining the traditional cast-iron construction and re-using some standard parts from the K6, such as the leather door retainer strap, of which the GPO happened to have large amounts in stock! Sadly with the growing importance of mobile phones, kiosks fell into disuse and disrepair and many have been removed.
Today there are just two K8 kiosks in the Braintree District – both in private hands, and only 12 still in operation nationally – far more endangered than the more popular K6 design. Luckily, the CVPHM collection includes both K6 and K8 kiosks and the museum's site has a detailed history of kiosk design.
Today, Braintree District Council sponsors a list of 48 kiosks in areas with poor mobile coverage or in areas of high social deprivation to ensure that they remain available. Meanwhile redundant red phone boxes in our surrounding villages have been repurposed as information points, event ticket offices, flower displays and free lending libraries or to house defibrillators, all of which will help to ensure that this traditional icon of the British street remains visible for many years to come.
Comment by H21C: Telephone kiosks are valued heritage assets, and there are 2,711 entries for them on the national list to prove it, and this too, will offer protection. Braintree District alone has 26 listed telephone boxes, including the book exchange (main image) in Earl's Colne.
communications . GPO . Post Office . telephone kiosks